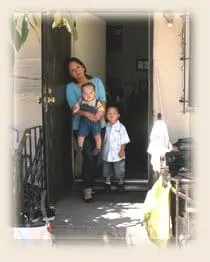 $1 Million Everychild Foundation Grant Goes to St. John's Well Child and Family Center
St. John's Well Child and Family Center is the recipient of the Everychild Foundation's Annual $1 million grant. The grant will implement the agency's environmental health project, Healthy Homes, Healthy Kids.
The announcement was made on November 13 by Everychild Foundation President and Founder Jacqueline Caster, and Hilary Nelson Jacobs, Chair of the foundation's Grant Screening Board.
Each year the group of 215 philanthropic Los Angeles women selects one project to receive a grant award of $1 million. The project must fill a critical an unmet need of children in the Los Angeles area by easing suffering due to disease, disability, neglect or poverty.
Healthy Homes, Healthy Kids uses a holistic comprehensive approach to help children who have literally been sickened by slum housing. The program specifically targets two primary illnesses:asthma, one of the leading causes of missed school days and lead poisoning, a serious condition that can lead to brain damage, kidney disease and nerve damage.
The project integrates comprehensive pediatric medical care with education, case management services and tenant assistance to reduce children's exposure to health hazards present in their homes including lead-based paint, mold, vermin, cockroaches and dust mites. The project uses successful strategies employed by St. John's in earlier, smaller projects.
"Our members like this project because it clearly seeks to repair a part of the health care system that is broken in impoverished communities in the Los Angeles area," said Jacqueline Caster. "The program breaks the cycle of illness by educating families, providing resources and materials and helping them navigate the housing bureaucracy."
Over an 18-month period, Healthy Homes, Healthy Kids will provide comprehensive health care and educational services to 4,000 children suffering from asthma, lead poisoning, or other serious environmental conditions. Three hundred of these children would also receive intensive home-based case management services.
The project will improve the health of hundreds of other children because the vast majority of families in the community have multiple children and many share homes with others. In addition, tThe project will eventually have a large-scale impact on slum housing by channeling compelling health data into advocacy that helps children across Los Angeles.
This is the ninth year the Everychild Foundation has given a grant to an agency in the Los Angeles area to help children and the third year the grant has reached to $1 million level.
Past recipients of the Everychild Foundation grants include: Mar Vista Family Center (2007), Heart of Los Angeles Youth (2006), Los Angeles Orthopaedic Hospital (2005), Hillsides (2004), Optimist Youth Homes (2003), Violence Intervention Program (2002), Wonder of Reading (2001), and Queens Care (2000).