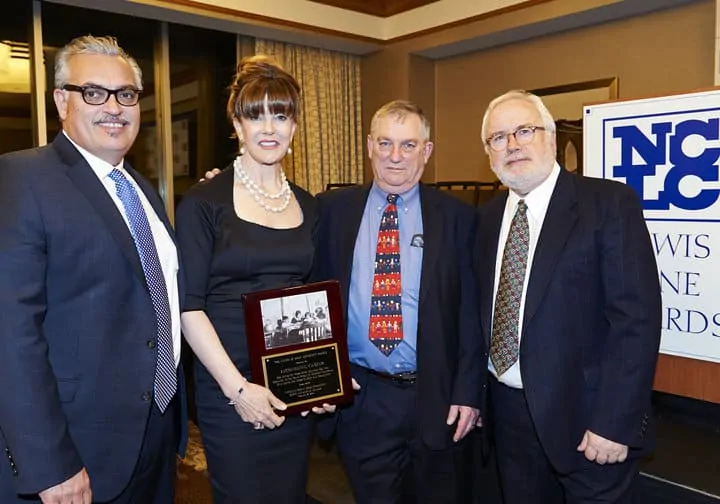 Everychild President's Blog, March 11, 2014
The National Child Labor Committee (NCLC) announced that Jacqueline J. Caster, Founder and President, the Everychild Foundation, a nonprofit organization that provides grants easing the suffering of children in the Los Angeles area, is the recipient of a special award, The Nancy Daly Advocacy Award, which was presented at the 28th annual LEWIS HINE AWARDS FOR SERVICE TO CHILDREN AND YOUTH, on February 18, 2014 in New York City.
The LEWIS HINE AWARDS are named for the acclaimed NCLC photographer, Lewis Wickes Hine. Hine's photos documented early-20th century exploitation of children and were instrumental to the passage of the Fair Labor Standards Act of 1938, a federal law that protected children from workplace exploitation. The LEWIS HINE AWARDS honor those individuals, as professionals or volunteers, for their unheralded and exceptional service to young people. The recipients, who this year hail from as far away as Washington state and as close as New York, are selected by a distinguished panel of judges from among hundreds of nominations submitted each year by business, community, and nonprofit leaders.
The NCLC presents a select group of public figures with special awards including The Nancy Daly Advocacy Award, which memorializes the late Los Angeles, California, activist and philanthropist Nancy Daly, whose continuous efforts over many years provided support and opportunity for thousands of young people. Past recipients of The Nancy Daly Advocacy Award include: Jennifer Perry, Executive Director of the Children's Action Network (CAN) and Father Gregory Boyle, Executive Director of Homeboy Industries.
Jacqueline J. Caster was honored for more than two decades of hard work and dedication to the children of Los Angeles, California.
Photo:
2014 Lewis Hine Awards, Nancy Daly Advocacy Award Honoree Jacqueline Caster with (L) Javier Stauring, Co-Director, Office of Restorative Justice, Archdiocese of Los Angeles, Jeffrey Newman, President and Executive Director, National Child Labor Committee and (R) Erik Butler, Chair, National Child Labor Committee