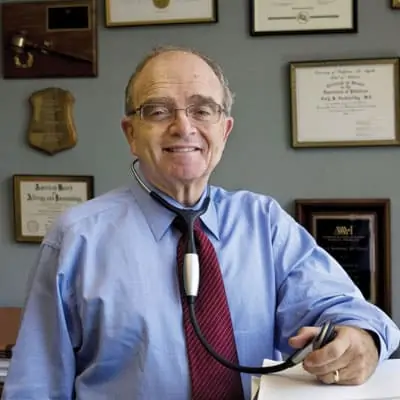 Asthma Expert Discusses Causes; Ways to Alleviate Suffering of Children (May 2008)
Dr. Gary Rachelefsky, a recognized expert on asthma, spoke at the May 22, 2008 Everychild Foundation Salon on asthma. The event was held at the home of ECF member Terry Hamermesh and her family. Dr. Rachelesfsky is the Director, Executive Center for Allergy, Asthma, and Respiratory Disease and Professor, Allergy and Immunology UCLA Geffen School of Medicine Los Angeles, CA,To illustrate the devastation wrought by childhood asthma, Dr. Rachelefsky pointed to statistics that show that 8 million children suffer from asthma in the US today, and nearly one third of these are likely to be misdiagnosed and therefore not treated properly. There are approximately 250,000 hospitalizations due to asthma annually, putting a costly strain on the health care system. In addition, it is estimated that 14 million school days and 14 million workdays are missed annually due to asthma, taking a toll on both the economy and families.
Asthma is more prevalent in urban versus suburban areas, and obese adolescents constitute the largest percentage of asthmatics. Many factors contribute to the prevalence of asthma in poorer urban areas, such as proximity to pollutants from factories and freeways. However, Dr. Rachelesfsky stated that indoor pollution is the primary culprit. For example, cockroaches and dust mites are irritants causing those living in infested homes and who are disposed to asthma to have frequent attacks. Additionally, the presence of cigarette smoke in many homes is another dangerous irritant. Because children in lower-income neighborhoods often spend a great deal of time inside due to the lack of safe playgrounds and unsafe streets, their exposure to such pollutants is often magnified.
To combat these causes of asthma, Dr. Rachelefsky suggests regular insect extermination, plus the use of special mattress and pillow covers and outreach programs to curb smoking. There is also hope that, by working with the community to equip local clinics with pulmonary function machines, those with the disease will receive better care.
The National Asthma Campaign (www.nationalasthmacampaign.org) is Dr. Rachelefsky's latest effort to address the asthma issue on a broad scale. The campaign aims to improve the lives of those who suffer from asthma throughout the United States via education and outreach programs. By working with various health care providers – community clinics, school nurses, etc – the campaign hopes to create a partnership between medical professionals, patients and families to reduce the rate of asthma. `